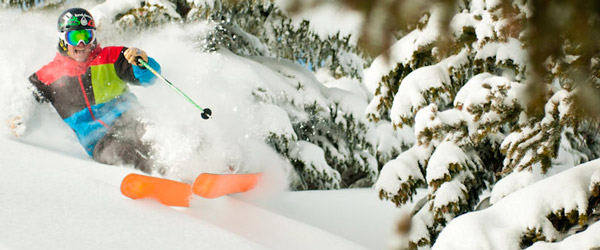 Action looks best when it shows expression and environment.  But capturing both, with great movement can be difficult to get right!  In the case of this shot everything lined up perfectly and athlete
Drew Rouse
nailed a sick slash!
When setting up, I knew that I wanted to have some foreground elements that were out of focus to help frame in the action.  The best way to do this is to go a little further away, and shoot zoomed at a LOW aperture like f/2.8.  The low aperture and zoom help move keep only the action in focus.  You can learn more about shooting with low apertures in this article:  Fast Glass for Action.
I composed so that the action would be moving into the frame from the top left.  This gives the image a very natural progression since the slope moves from top left to bottom right.  By doing this I created a shot that gives you a better idea of the full motion.  When you have action leaving a frame you wonder where the athlete's going, but entering the frame helps the viewer to understand the image immediately.
Setting a focus point for this type of shot can often be difficult.  I chose to focus on the tree to his right, since that's where I anticipated the shot would go.  This way I could pre-set the composition and have the shot just the way I wanted it to look.  When you use continuous focus you will have to move the camera and may not get the desired composition you originally wanted.
Coordination with Drew was a key component of nailing this shot.  He needed to know exactly where the key shot would be.  Professional athletes are great to work with because they understand what works and how to make the key  action happen where you need it to happen.
Drew has been shooting for years and knows exactly what to do.  He makes great expressions during the shot that really showcase how much fun he is having.  Often times athletes will take shots with strange expressions that may be natural, but don't look great for the image.  Make sure your athlete understands if they need to be smiling or having an excited look in the shot.  This is a small detail that makes a HUGE difference.
I pointed out the exact spot where I needed the turn to be, and asked him to really lay a turn down towards the camera.  Precise communication makes all the difference, and bringing radios for a shot like this can help facilitate that.  We forgot to bring them for this shot, but he was within good hearing distance and could see where his mark was.
Depending on the frame rate of your camera, you may be best off snapping shots in continuous mode starting with the one that you think is most important.  If you shoot continuous before they enter the frame and don't have a fast enough rate you likely won't get the key shot.  This takes practice and timing but you'll learn exactly when to click away that main keeper.   By keeping it in continuous after getting the shot you think will be best, you increase your chances of getting another keeper, or an ever better image.
Be ready for the action, and with practice and great timing these shots become easier to nail consistently!