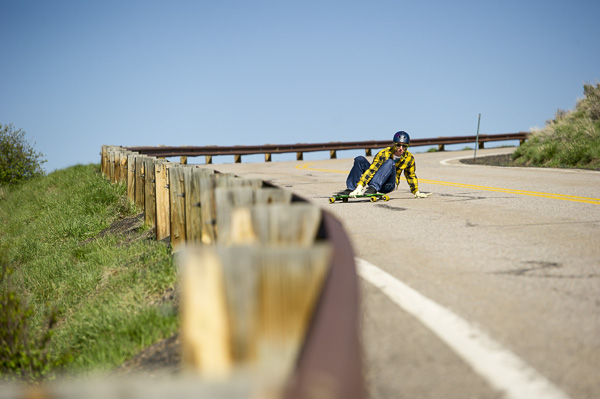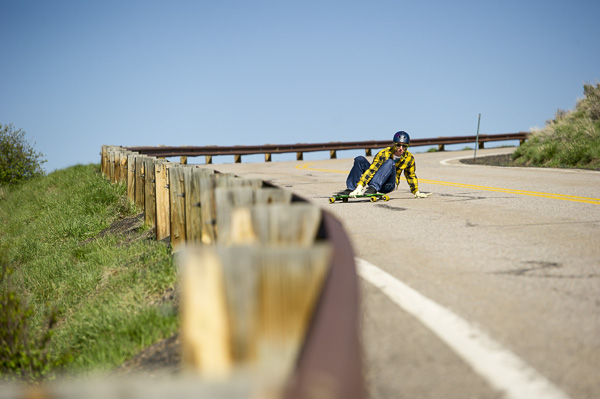 Capturing sports is all about timing, and the right subject matter.  Master these and shoot at the best times of day and you are well on your way to capture amazing images.
For this shoot I wanted to capture cool and unique longboarding images that showcase excitement and speed without using motion blur.  With any shoot it's all about location and talent first.  Scouting ahead is highly recommended.  This includes both talent and location.  I knew my friend Kyle was a great longboarder, and knows how to work with a photographer (a rare talent that makes shoots much better).  This made him the natural choice for this shoot.
When scouting for locations to capture longboarding, I look for interesting curves and scenic areas.  I knew I wanted a slide shot, and these typically look best head on.  This made a curve the best option since the road looks most interesting when it's not straight out in front.  When composing the image, I wanted to showcase the action off-center, and leave plenty of negative space for whoever purchases the image to be able to add text and logos.  When shooting stock and magazine covers, negative space is a must!  The only time to not shoot with negative space is when it will detract from the overall look of an image.  Otherwise, more is generally better for companies that are purchasing images!
I chose to use a very shallow depth of field for this image at f/2.8.  This way I could keep the athlete as the main focus, and would be able to blur the fenceline up towards him.  By doing this, viewer's eyes head straight up to the athlete.  The shallow focus also helps add motion to the image.
I composed the image exactly how I wanted it before Kyle even hiked up to his start point.  This way I was able to point to him where the precise spot was for the slide.  I then had him hike up and shot with continuous AF, which works very well head-on.  I set my focus point right on the mark within my composition, and then tracked with the mark over him as I shot of several frames.  This way I would have my precise composition, with perfect focus.
This image was taken just after the sun had made it over the mountains behind to give the light a softer and warmer look.  Shooting in mornings and evenings will make your photos better every time!
For more tips on shooting longboarding, be sure to checkout our post here: 8 Tips For Better Longboard Skateboarding Shots