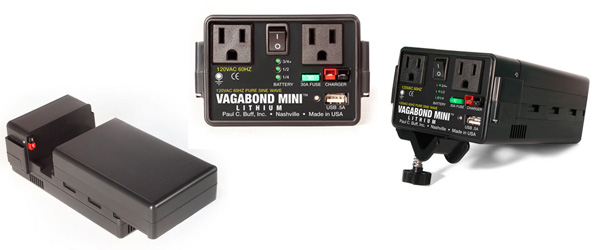 When it comes to battery packs for powerful flashes, there are few lightweight options available, most will break your back if you have to haul them any distance…
Update:
After using the Vagabond mini for about a year now we can say few things for sure. It definitely works, the battery lasts a long time and it charges pretty quickly(especially compared to the Vagabond II(if you still remember it…) No matter if you are shooting a whole day event or doing a regular photo shoot the Vagabond Mini is not likely to run out of juice. It's weight is game changing, not only because it is much smaller, but now we are able to take it to the backcountry and shoot skiing with it..and that says a lot! We've used them in the worst conditions ever, when it's -30F with blowing snow and if feels like it is the end of the world. As long as the mini stays covered [protected], it is perfectly fine. This doesn't mean you don't have to take care of them though, it's just the other way around. The case is the fragile part, drop it from a foot and you're going to reveal it's guts. The battery part comes apart really easily, and the rest just breaks. There's a little clip on the bottom that holds the battery in place, so if you place it on the ground more aggressively it will break off. Another thing you should be careful with is the light stand mount. If you decide to use it and too much pressure is applied, it can crack the whole case.
Even with it's fragility, we are going to conclude that the Vagabond Mini is irreplaceable because of it's weight, size and capacity. And even if we have to buy a new one every now and then, we are still going to keep using it. Keep in mind that the case is likely to fall apart, but at the end of the day, you get what you pay for. Here are a few shots showing the damages our units incurred from very minor drops, the next units we get will be thrown in bubble wrap just to keep them safe…… but we will get more units!
———————
Fortunately, several companies are creating lightweight solutions! Elinchrom has the Ranger Quadra which look like a very solid system, and AlienBees has the Vagabond Mini Power Pack.
Before the "mini" power pack, we used the original Vagabond power pack, and at 18.6 lbs it was difficult to haul around…  The pack broke several times from light use, but Alienbees has amazing customer service and sent brand new packs free of charge.  Pretty sweet!   Now, Alienbees has released a brand new power pack, the Vagabond Mini.   It's lightweight and compact, making it the perfect choice for action photographers on the run.  The power pack makes almost no noise since the fans rarely kick in.  It's battery is interchangeable and additional batteries are not expensive.  At 3.5 lbs it's almost too good to be true.
Almost….
The pack is definitely not waterproof, and it lasts less than the original.  Also, the plastic seems cheap and brittle, part of one unit broke on a carpet floor from a 1 foot drop.  The original power pack lasted 500-600 full power B1600 shots, while the new mini lasts 400-500, definitely not a deal breaker but something to keep in mind.
The Bottom Line:  We are happy with our Vagabond minis with their lightweight and compact builds.  They may seem cheaply built, but they are cheap..  And with AlienBees track record of customer service, we know that if something is wrong, they'll fix it quickly.