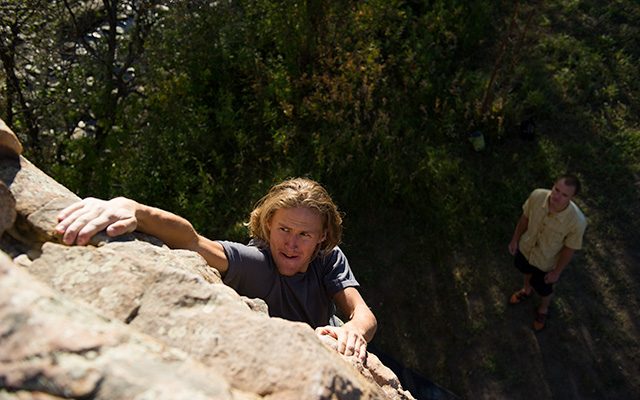 What I am about to say may be counter-intuitive to most of what you read here, but try to keep reading past this: Sometimes, it's important to drop the flash on a shoot, and you'll actually get better shots. I know that this seems like crazy talk, but I have evidence to prove the point.
A few months ago I went on a sunrise shoot with some athletes that were bouldering. Bouldering is when you climb without a rope to the top of large boulders and try to make it to the top up the most difficult path. It's an incredibly tough sport that requires a lot of thinking, patience, strength, and determination.
The tough part about shooting bouldering, is that when you use flashes, it's really difficult to get the athlete's face lit up, or not to cast too many strange shadows. Placing a flash on camera, or holding it just off to the side can help, but flat light is not the look that's selling these days….
At night you can create some amazing bouldering images with flash, this is because you have complete control over the scene. Sure, you can balance it midday too, but when you have that great golden morning lights, why not embrace it and work with it! Shooting this day with no flash was motivational and fun. It took me back to a time when I first started and photos were simple. When all I did was shoot angles that looked great in amazing locations with talented athletes. Now I'm trying more and more to mix it up when I shoot, to fire off some shots with flash, but to also take shots without and just enjoy shooting. Even when you are the flash master, there are still times where you will be frustrated and scratching your head as you ask yourself, "why did that happen?"
The approach on this shoot was to capture great stock images. I wanted to tell a story and have some emotion in the images rather than just a bunch of backside shots from the ground. I wanted to capture the vibe that day and show off the beautiful scenery that we were all enjoying at the time. I didn't get up that early just to shoot a rock with slightly more yellow light, that's for sure!
I climbed up onto the rocks myself for many of the shots to capture facial expressions. This is when my experience bouldering came in handy and proves the point that knowing the sport you are shooting is important. I set up several shots where I knew that the athlete would be turned and looking to the side so that I could capture that moment from below and little ways away with a telephoto lens.
Throughout the shoot I moved to as many locations as possible after securing a great shot at each one. By diversifying like this I was able to capture more shots that are salable and could be posted on my stock agencies website. The final detail that brought the whole shoot together was shooting the "down moments," when the athletes are talking, sitting around, or chalking up. These detail shots complete the story.
Great images can contain 20 flashes, or they could have been shot with none. The decision depends on what you are shooting, the time of day, and the location. Work with and without flash to create a diverse portfolio that shows your skills and flexibility. Not only will you capture great images when you don't use flash, but you can be more relaxed and really devote all your attention to the moment, not the gear!