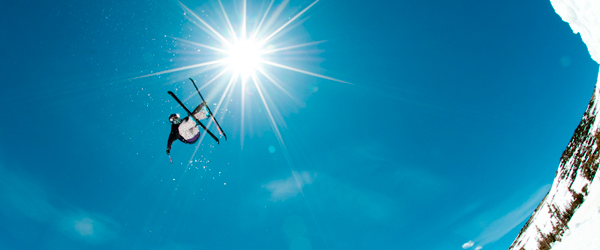 Starred-out suns make for more dramatic and stunning images. Once you learn the basics, it's fairly easy to capture great images with a starred sun.
First off, a brief explanation of why the sun stars out at certain settings is key to understanding how to capture it. When the aperture is small, the light seeps through the edges of the lens blades creating a star effect. Depending on how many blades are in your specific lens, you will have a star with more or less points. The best stars typically come from lenses with more blades, though this is a personal preference.
The rule for shooting into the sun is called the "Sunny 16 Rule". What this means is that if you shoot around f/16 or smaller, you will get a great looking starred out sun. You can go a little more open, but f/16 is typically where the most desirable results will occur. Because you are shooting at such a tiny aperture, you're going to have to over-expose to make your subject light up if you don't have a flash and are not going for a silhouette.
These shots are easy to create if you shoot at f/16 in Aperture Priority mode. This way the camera is calculating what will work best. I also over-expose the image by about 2 stops to make sure the athlete is well lit. When you choose these settings you'll have a dramatic drop in your shutter speed, to a point where it would blur the action! This is where your ISO is key. Typically something around 640 or 800 should be enough to deliver plenty of light on your subject. Try taking a few test shots and find a sweet spot where the shutter speed is plenty fast, and the athlete will still be lit.
A couple of very important tips for shooting into the sun:
-Shooting in sand, snow, water (any reflective surface) will help create that beautiful wrap-around light on the athlete. If it's not reflective enough (dirt, mud) you may want to consider using a flash to light up the athlete, or going for a silhouette image.
-Remember: keep your time looking through the lens to a minimum when shooting into the sun, it can be dangerous for your eyes. Try instead to use live view mode and save your vision.
-If there are ANY CLOUDS AT ALL very close to, or over the sun, no matter how small, the star may not come out. Try only to shoot into the sun when the immediate area around it is completely clear.
Sunny 16 images are some of my favorites to create and look at. The sun makes the image much more dynamic and cheerful. Keep a solid composition, combined with a great athlete, and create some of your best images ever!
Update:
One of our readers( Johan flickr.com/photos/iceman2058/ [email protected] ) added another piece of valuable info:
Because aperture is set relative to focal length, a longer focal length means a physically larger opening at the same aperture setting. To make sunstars we need the aperture to be physically tiny. So to get a good sunstar, set a small aperture but also go as wide as you can (if you are zoomed in even at 50-60mm you will most likely be getting a big burned out blob instead of a lovely sunstar…).