Here's a question that matters in any business. Is it better to have a quality product, or a unique product? Why not have both! Photos can be viewed as products too. Sometimes a pretty bad photo will sell for a great amount of money simply because of the content. The content is what makes the photo unique and desirable.

Bad photos can sell over great photos if the content is right, and this fits with the saying "Content is King". Now, here at APS, we think you should always strive for both! Quality is most likely your number one priority as a photographer. You strive to make the best images possible and create photos with perfect lighting and scenery.
It's time to adjust your thinking just a little bit. It's easy to think that this doesn't apply to the action sports photographer because any action that is extreme is great content. But the fact of the matter is that images of top athletes like Shaun White are more likely to sell than a photo of your buddy doing the same trick with better lighting and a better backdrop. So even though your photo is simply incredible, you were beaten out by the guy who captured a cell phone shot at the perfect moment. It doesn't seem quite fair, right?
But if you think about it for a bit, it works this way in the tabloids as well. Those photographers can make well more than $10,000 for a crappy image of Paris Hilton. The reason this whole thing works, is because people viewing photos (not photographers, normal people) don't care as much about how perfect every detail in the photo is as you do. They care about what the photo shows.
There have been many times where I show family/friends photos that I think are amazing due to lighting, and they don't seem as excited as I am. Then I show them a photo with bad lighting of a friend goofing around and they love it. More proof that Content is King.
Though the image above is way more exciting and better composed than the one below, the one below is better for the client (Vail Resort) because the athletes in the shot are instructors which makes the image more marketable to their own clientele.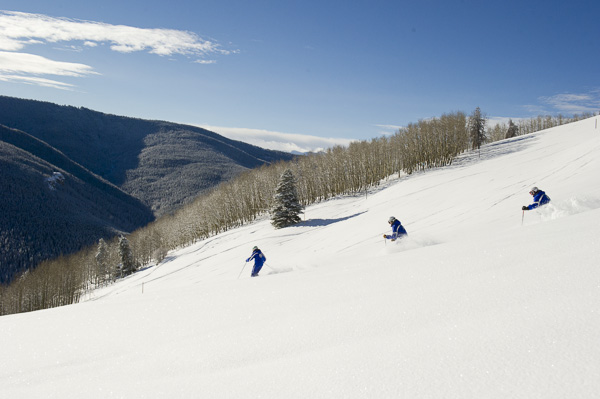 This doesn't mean that you should give up on quality. A high quality image with amazing content, will beat out that cell phone shot of the same content any day. And it will be something that you are proud of that boosts your portfolio.
The lesson to be learned here is that it's important to shoot the right content. Even if your images are great, but you are shooting non-relevant or uninteresting content, the image will be tough to sell. Look for top industry pros, the gear they have, beautiful scenery, and anything else that will make your work more interesting and unique. The key here is have content that apples to your target client, while retaining great quality.