In 2013 I re-built my website at CNWPhoto.com using the Photocrati theme and was so impressed, I had to write a review.  4 years have passed since then and the theme is still regularly updated with tons of new features and never has any issues!
UPDATED: February 2017
First off, Photocrati is affordable and with any knowledge of web design or WordPress, you'll find it easy to install and use.  Even if you don't have the experience, it should be simple enough to build using instructions on the Photocrati site.
In the past, I have tried several methods for websites.  I've used SmugMug.com which is a great program, but didn't really make the site my own.  Then I moved on to building my own site in Dreamweaver, and to do this, I used freeware called Jalbum.  It made for some nice looking galleries and site, but took a ton of work to create.  It also made it such a hassle to change out the galleries that I neglected the site for over a year.  Plus, I never figured out how to make a blog on the site without using separate software that wouldn't integrate.
Even though I'm a fairly experienced web designer, it still took too much effort and tech skills to create a site the way I envisioned.
So in 2013, I decided it was time for a change….  Enter the PhotoCrati web theme. (And it still continues to work perfectly after 4 years!)
After much browsing on the internet, and reading different reviews, I finally settled on PhotoCrati.  It's not a complete solution, meaning you will still need a host, domain, and wordpress.  Fortunately, they explain how to do all of this in detail on their website.
Initial Setup
Once you have your host and domain setup with WordPress, you'll enter the backend of WordPress and install the theme. (Again, explained on the Photocrati Website).  The process is simple and straightforward. Thanks to clear instructions almost anyone with a little tech know-how will be able to do this.
You can also use wordpress.com to setup your site for free (you'll have to pay extra for a different domain name), but it will be easy this way.  Another great feature is the ability to create an e-commerce solution.  Although I don't sell any image on my site, it seems very simple to setup.  The backend and front end are clean and easy, and you take payments with a PayPal account.  This makes it easy to start selling your work right away to pay off all that camera gear!
Look and Feel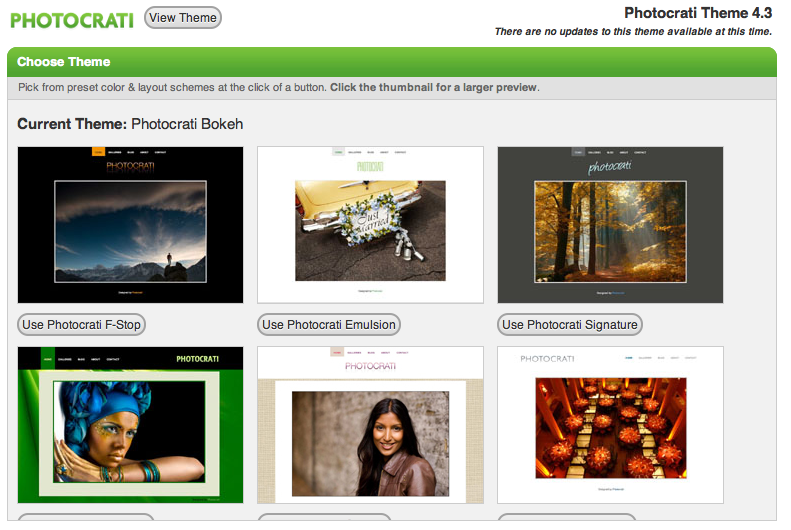 I've used wordpress for various websites over several years now, and have found that most themes share one downfall.  They don't have simple instructions that will get you up and running.  They also require a ton of technical programming to make them look good.  With PhotoCrati, there are literally over 60 different designs to flip between right out of the box.  All are part of one main wordpress theme, so you'll switch them from inside the "Theme Options" panel at the top.  This panel has "Quick Setup" instructions that will instruct you on how to get your site up and running in no time.  The theme styles can be saved so you don't need to worry about losing a previous setup that you like.
Customizations
Once you have a theme style you like, you can use the "Customize Theme" panel to change colors.  It's easy to change just about every aspect of the site you could want.  The layout of the panel is simple and understandable right away.  This is so refreshing compared to many other themes I've tried where I spent hours researching code for each small tweak.
After following the directions for setup, you'll get to the last steps where you actually create the galleries.  These are easy to follow, and give you several options for changing the style of each gallery.  You can even put multiple galleries on the same page!  On top of that, there is no limit to the amount of galleries your site can have.  When it's time to change photos, simply remove them from the gallery and add others.  Re-arrange the gallery with a drag-and-drop interface.  It's all very intuitive.

Customization is the name of the game with PhotoCrati, most styles you can think of are easy and quick to setup.  The menu is fully customizable to your needs.  Don't want a blog, don't add one!  Want a blog page, simply follow their instructions and you'll be up and running in less than 5 minutes.  Need captions, check the box!  Want a film strip below the slideshow, choose that setting.  Want music in your gallery?  Yup, that's built-in  and easy to do!
The Bottom Line
If you are looking to setup an impressive photography website while making it look custom, and retaining the ability to change the design and galleries with ease, PhotoCrati is an excellent solution.  If you are wanting to sell your photos online and blog about your work, that's easy to setup too.  Its very inexpensive, takes little technology know-how and no coding skills, and lets you run a blog to keep your clients informed of your work.  Add e-commerce, unlimited galleries, never paying a monthly or yearly fee, and quick customization to the mix and you've got a grand slam!
One of the best parts is that this is not a monthly theme service you have to pay for.  It's extremely well supported and documented and is updated so you don't have to fear running into outdated software issues.  For more information about photocrati, check out their website here.
Verdict
At APS, we give PhotoCrati a 10 out of 10.  It's simply the best photo website tool we've ever used for a number of reasons and we can't recommend this theme enough.
(Update 2017: This option is still the best we've found even after 4 years!  Plus the crew at Photocrati is still updating and improving after 4 full years.  After having issues with other site templates and services not staying current this is a huge relief!  Themes that are lagging behind on updates can mean malfunctioning and downed sites and thankfully we haven't had to deal with that anymore.)