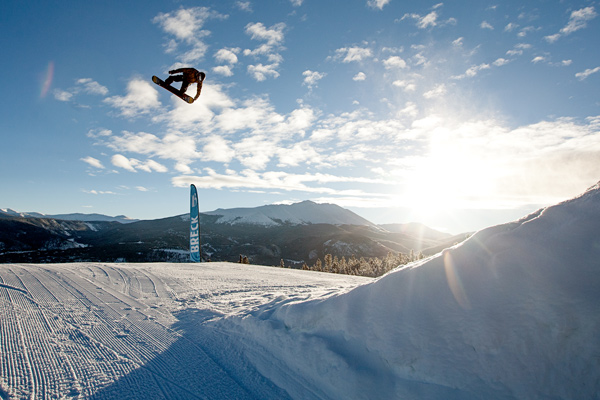 The world of action photography is very diverse and difficult compared to most other aspects of photography.  Here are 20 key tips that will help you take better action photos.
#1: DRESS SMART
When it's winter, overdress.  The athletes will be moving a lot so chances are they are staying warmer than you because their blood is flowing.  Wear more gear than you think you'll need and you'll have a much happier and more successful shoot. You're not going to take better action photos if you're so cold you can't hold the camera!
#2: ALWAYS ZIP UP YOUR CAMERA BAG
Every skiing photographer will forgot this and get their backpack packed full of snow.  Same goes for dirt sports,  dust get's everywhere and is a pain to clean off your gear.
#3: GO WIDE FOR EXCITEMENT
A wider angle will get you a much more dramatic shot, if that's what you're going for…
#4: SHOOT FROM A SAFE SPOT
Don't get run over by the athlete, but get in as close as possible when you can for super sick shots.
#5: KEEP THAT SHUTTER SPEED UP
Action is fast, if you aren't going for motion blur, make sure your shutter speed is faster.
#6: ALWAYS CARRY A LENS CLOTH
Action sports take place in the elements, your lens will get sprayed with water, covered in dust, and splattered with mud.  Be prepared!
#7: AVOID GUY IN THE SKY
It may be cool to you, but the best images tell a story.  Look at any action sport magazine and you'll notice the take-off or landing (often both) is also in the shot.  By capturing the whole feel for the image you'll give a sense of place, risk, and excitement.
#8: GET A LOW OR HIGH ANGLE 
More extreme angles help capture how risky or rough the sport really can be.  People love exciting images and getting low or high angles will provide excitement.
#9: WORK CLOSELY WITH THE ATHLETE
If they say a shot won't look good, trust them.  If they have a suggestion for an angle, check it out!  They know the sport and look at published pictures of it constantly.  An athletes suggestion can turn into your favorite shot.
#10: FILL FLASH FOR LOW ANGLES
The sun is not below the athlete so you're going to need some light to fill in the athletes face and eyes, especially if they have a full face helmet.
#11: SHOOT SUNRISES AND SUNSETS
You may not think this applies to anyone other than landscape photographers, but try it once and you won't want to shoot midday light ever again.  Just sayin'…..
#12: HAVE ATHLETES WEAR BRIGHT GEAR! 
An often overlooked part of a photo shoot is what the athlete is wearing.  Dull clothes don't pop in an image and they tend to blend into the background.  Bright clothing will stand out and make the athlete visible in spotty lighting.
#13: SHOW THE ENVIRONMENT
Most sports take place in cool and unique locations.  This is a big part of the reason that athletes love the sport.  Showcase the athlete in their element to make the image authentic, enjoyable, and exciting!
#14: WATCH THE BACKGROUND
The athlete should stand out, not blend into the scenery rendering them invisible.  We aren't playing "Where's Waldo" here… This is where going low and wide usually works, and why the athlete should wear bright clothing.  The sky is a lot less complex and detailed then other background elements making it a perfect background for an athlete if you can make that work.  A great background will help you take better action photos every single time.
#15: SHOOT TELEPHOTO
It may sound crazy since #3 is go wide for excitement.  But a very zoomed shot will look more exciting than a standard focal length.  Choosing zoomed or wide will make for more interesting shots.
#16: STOP YOUR LENS DOWN
Keep everything in focus and land more sharp shots.  That f/2.8 shot may look incredible with the blurry background, but often times it will be tough to get the moving subject in perfect focus.  That being said, don't be afraid to go for that wide open aperture if you really want shallow focus.
#17: If other photographers are capturing the same angle, move away.
Shoot a different angle, and find a unique vantage point.  Try to build the crowd into the photo, or use a tree to frame the image.  Anything you can do to be different will most likely be beneficial.
#18: SHOOT INTO THE SUN
It sounds crazy, but in certain situations shooting into the sun will create the most amazing images.  Star it out by shooting f/16 or smaller, but make sure there are no clouds (even tiny ones) anywhere near the sun or the star will be ruined.  Silhouettes are very cool in the right situation.  Otherwise you'll need a high-ISO or a flash to capture the athlete in detail and color.  If you shoot into the sun with an open aperture and overexpose a stop or two, it creates a more dreamy look and what is known as a high-key image.  These bright images are the ones that you see run in ads the most since brightness is directly associated with happiness. To learn more check out this article:  Shoot into the Sun.
#19: FOCUS REQUIRES STRATEGY
If you're shooting from the side, try pre-focusing on an object that is the same distance away from you as the athletes key shot location.  If they are jumping off of something, pre-focus on the landing, or something in the middle.  When shooting head-on and mostly random, lower your auto-focus point count in your camera menu, and try shooting in continuous mode.  Not every picture will be sharp, but with bit of practice the number will increase!  You can't take better action photos if the image is unrecognizable due to blur.  Check out this article for more: Nailing Focus.
#20: LOOK TO MAGAZINES
If you don't know much about the sport, this will show you what types of shots people who ARE into the sport like to see.  Don't copy these (unless you can do it better), just see what makes them work and come up with your own ideas.
Use these tips and you are guaranteed to take better action photos.  We just wish someone had posted this when we first started!