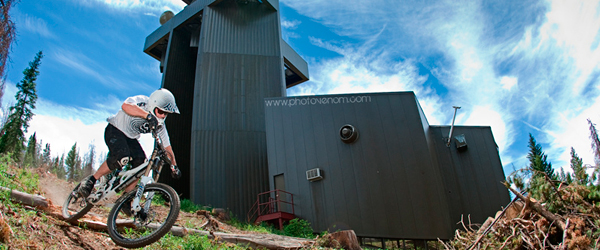 Don't be a LAME photographer.  We don't need any more photographers that walk up, aim their camera, and shoot without thinking in this world!  When you get to a location, you should not just shoot the first angle you see.  You need to explore all options.  Don't expect that because the angle looks good right away, it's the best.
I've always felt that as a photographer, you could come up with hundreds of different and great images of the same subject matter in the same location.  Change your lenses, go far, go wide, go low, go high, get close……etc.  There are a million different ways to create a completely different shot of the same subject.
So what's the first thing you should do when you get on-location?  Take a quick look around, and walk to all sorts of different angles.  Think extreme angles to create something different.  Would it work if you were in that tree?  How about laying under the takeoff, or from the scaffolding 300 feet away?  Maybe standing in the crowd, on a ladder, or laying on the ground 20 feet away?  The options are almost limitless!
As you walk around and scout angles, picture what the shot will look like.  Better yet, bring your camera and take a quick snap of each angle with the lens that will work best from it.  Then review the angles on your screen and pick the best one.  Remember that as you do this, you need to picture where the athlete will be in the final image.  Compose as if you were actually shooting the shot for each one of these test captures.  This way you can be sure which one will look best, and maybe find a few others that look great to diversify the shoot.
Creativity is the name of the game.  Don't shoot like other photographers, be an individual and capture something amazing!