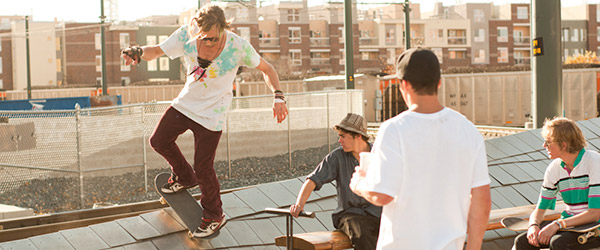 When a photo shoot is all set up and planned, it's tough to have too many unexpected natural moments. People are standing around waiting for the next shot, and they aren't acting purely natural. Unfortunately, it's often the natural shots that seem to be the most salable….
That's when I step in and work a little unnaturally-yet-somehow-natural magic. The secret to getting natural shots when they just aren't happening, is to set them up without the models/athletes realizing what you are doing. Spend some time making them comfortable and tell them to take a break or relax in the area you need shots from. A relaxed model will do what comes naturally. These are the shots you need! Keep your camera ready and make sure they know that you are going to take some shots of them.
At first the athletes will be a little awkward and apprehensive, because let's face it, athletes really aren't models usually…. Telling them to act natural will only make things worse for a bit, but then the barrier will break. This technique works great when you have multiple models, but one on one can be a bit tougher.
With multiple models tell the athletes to have fun and relax, and pretend like you aren't there. Of course this will lead to a lot of awkwardness at first, but with time it really works well. Try putting your camera down and interacting casually. The less time you spend making it seem like work, the more time they have to relax and be themselves. Since you have multiple athletes they will most likely start joking around quickly.
With one it's a whole different story.
Telling one athlete that you need some "natural looking" shots will only confuse them most of the time. If you tell them to relax that can help quite a bit but won't solve the whole problem. I like to have the athlete take in the scenery and enjoy the moment. I won't start shooting or even lift up my camera right away. Instead, I sit and relax as well for a bit, this will ease the tension. Once it feels like the time is right, I pick up my camera and start shooting from a few different angles. If they start getting awkward again I tell them to act just as they did when I wasn't shooting. This technique usually works really well! Acting casual and not like a crazed photographer makes all the difference. Casually walk around and take a few snaps. It's OK to talk to them a bit, but make sure they finish replying before you shoot or you'll get a ton of shots where they are making weird faces with their mouths open!
Like all things in life, shooting lifestyles, or "natural moments" takes a lot of practice and experience. I've been working on this for years and still have the occasional "awkward" moment where the athlete and I are not getting the type of shots we need.