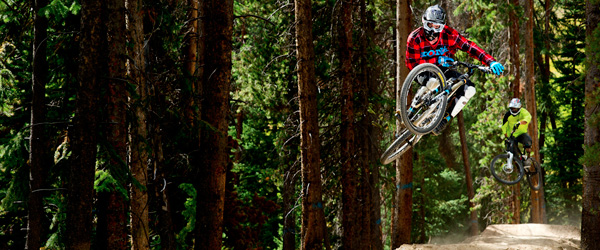 Sure, photography is more fun without clients (Less headaches, stress, and pestering…), but you won't make a living at it.  Finding clients can be tough, but when you know some of your options, you can target the right clients for your work.
Before you start looking for clients, it's important to have established a portfolio, more on that here.  You can land local work without one, but to land certain clients, especially bigger ones, you will need a portfolio to demonstrate your abilities and style.  If you don't have one, start shooting some personal projects that directly relate to the type of work you want to land.  It's important to show that you specialize in that subject matter!
Shot Captured for Winter Park Resort, CO
Now that you have a sweet portfolio, and are ready to make some money, the first step is finding clients.  There are many different forms of clients, and sometimes the most obscure one that doesn't seem to relate to what you shoot, will give you the most business.  Here are just a few of the millions of options for selling images:
Local Business- This is a great way to build up a business, and it's very easy to understand compared to some other methods.  Example: If you are shooting mountain biking, contact mountain bike shops, or accessory stores, and see if they have any photo needs.  Review their website and see if it could use some great images, ask if they want some shots to put around the shop, or need anything for their advertising.  Local businesses often have photo needs and they probably won't find you.  Go find them!

Shot captured for the Vail Colorado Burton Store

Local Marketing Agencies/International Agencies-  These are easy to find since they specialize in marketing, and therefore can get their own name out there…  Search for them on the web, or schedule meetings with local agencies in person.  These companies run campaigns for other businesses and will have various photo needs.  Show your portfolio and ask them to contact you for any projects that they may need images for.  Then, contact them once a month or so to see if they have any photo needs.  They often will!
Web Designers-  Web designers often need photos, and will sometimes buy them from a photographer rather than through stock agencies. Local businesses, using local web designers, will likely want local images.  This is where you come in!  Like the marketing agencies, it's important to e-mail them once a month or so asking if they have any photo needs.
Magazines-  The area that gets most of us into action photography.  We dream of seeing our work published and assume it will rocket us into fame from the first publishing.  (It takes time to get there, one publishing won't do it like you might think..) The magazine market is quite competitive.  Keep in mind that images are a universal language, so you can submit your images to magazines all over the world.  There are more out there than you may think so browse the racks, and search the web for magazines related to your sport.  Learn all about getting into magazines, in this article here.
Stock Agencies- There are many different stock agencies out there, and depending on what you are shooting, there will be one that would represent you well.  When we first started we got involved with Cavan images, they are great to work with and are always looking for more photographers. Their site is located here.

Getty Images and Corbis Images are two of the biggest agencies in the world currently.  These can be very tough to get involved with, and will require you to have a lot of images available right away.  The payout can be great as they typically give about 40% of every sale to the photographer and images will sell for good money, multiple times.  With all stock agencies, quantity means more sales.  Build up a big library and you can easily make a living this way.  These are nice if you don't like to find clients on your own, because they do the hard work for you allowing you to shoot more!

Stock image captured for Getty Images.

Micro-Stock Agencies- These are similar to traditional stock agencies but are very easy to get involved with.  You also don't need a lot of photos right from the start, and can upload one or two just to see if they sell.  The difference is that micro stock agencies sell images royalty free and the photographer will only make a few dollars from most sales.  Quantity is really your friend here!  There is a professional in this field who makes over a million dollars a month in sales!!  He offers tips on his website here:  Yuri Arcurs
Product Companies- Athletes use and wear a LOT of different brands.  Try contacting different companies (any that you can think of) and send them a link to your portfolio.  Then ask if they have any photo needs.  This is easiest with companies that sponsor the athletes you shoot with.  If you don't shoot with any of the athletes the company sponsors, ask them if they can give you their contact information, and go shoot with them. When you get sick shots, send them to the athletes and the sponsors.  They may want to purchase some of the shots!
It takes a lot of work to start landing clients, but once you get a few, the word is out.  Keep up the marketing and keep the business alive!  It will only get better with time.  New clients are tougher to get than repeat clients, so be sure to keep in contact with old clients while you look for new ones.  This way they don't forget about you!