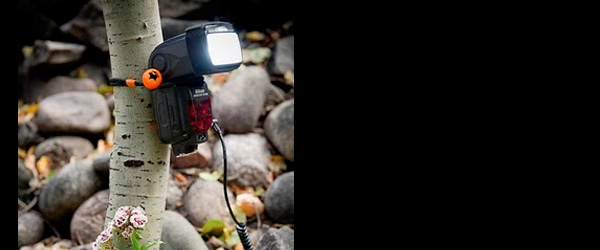 We used to carry a couple of light stands with us for shooting snowboarding or biking.  Most light stands are pretty heavy and bulky, and we often ran into a problem as we tried to position them on a steep hill or uneven surface. Have the same issue?
Because the legs are created for only even ground, the flash easily tips over.   Our old solution was to find a rock or put the backpack on one of the legs just to make it stable.  The Manfrotto 6ft Nano stand was the favorite because of its size and weight.  Although the legs geometry is fixed (bad for uneven ground..) it works better than most stands simply because it's smaller.
Traditional light-stands are not made for uneven ground, and traveling with.  Over the years we've discovered far better alternatives as we grew tired of struggling with traditional light-stands.
The best solution includes carrying a tiny tripod and a clip for attaching the flash to trees, rocks, branches, bars, etc..  For sports that take place in the woods the clip does an excellent job and combined with the tiny tripod gives a killer combo.  It's quickly replaced the full-size tripod for all situations where there may be branches or objects to attach the flash too.   If there are no branches, a little creativity will go a long way towards finding a quick solution.
The best part of this setup is that it's actually far cheaper and lighter than carrying full size light-stands. The weight of the clip + tripod is less than a third of the weight of two light stands. We also sometimes use bungee cords on trees to help hold the flash in place.
This is the even lighter weight option that we'll always keep in our packs! When you have to hike a lot and ride a bike or snowboard with an already heavy backpack every ounce matters.
Another vital part of the light stand is the cold shoe for attaching the flash to the stand.  The last thing you want is to get to a remote location and find out that the little screw that holds your flash on is missing or the tree you hit earlier broke the cold shoe.  That's why we use the Frio cold shoe.  It's simple and lightweight, and fits all current flashes on the market, including Nikon SB-900's with their slightly larger shoes (why Nikon, whyyy???!!!).  It has a dual lock system to make sure your flash stays in place.  You can read more about it on the http://www.friocoldshoe.com/ and the strobist blog, or check out or review here.